The Aussie CRM that connects all areas of your business
Tall Emu CRM works with MYOB and Xero; and is the only sales and operations system you will need to manage your customers, stock, orders, and fulfilment.
Watch an On-Demand Demo
Watch & share Tall Emu demo
Loved by Australian and New Zealand customers
Loved by Australian and New Zealand customers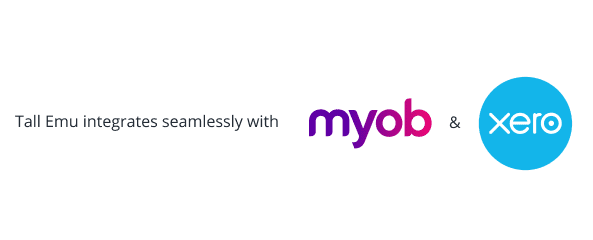 Remove the growing pains from your business
Fast growth in a company tends to lead to more silos, additional double-handling, extra apps and more frustration for staff and customers alike. 
So you want to have Australian CRM software that supports your growth.  
The good news is that your hunt for the best CRM software is over! 
One Australian-based CRM that can sync and centralise your whole business – across sales, stock and shipping – is Tall Emu. 
With Tall Emu, you can scale smarter – not harder.
Tall Emu can tick all your boxes when it comes to CRM software.
Customer Support

Sales & Marketing

Ecommerce

Inventory

Manufacturing

Warehouse

Freight

Accounts
Powerful CRM Integrations
Plug in the apps you use to run your business.
Whole of Business CRM System
Tall Emu is an Australian-based CRM, designed for small businesses in Australia and New Zealand. Tall Emu is customer relationship management software that serves as an end-to-end business solution. Integrated with MYOB and Xero, Tall Emu offers software for CRM that's locally managed and locally owned. Most importantly, you'll be able to get local phone support from our Aussie team.
Best CRM for Aussie & Kiwi businesses
Your Team Will Love Tall Emu
Collaboratively utilised by all departments and teams
Tall Emu CRM software is a simple but powerful system that will remove clunky processes and enable your team to spend more time on initiatives that increase business.
With its wide range of features, it's the best CRM software for encouraging collaboration across teams and empowering cross-departmental cooperation.
Why choose Tall Emu?
We're local.
Australian Data Storage

All your data stored safely in Australia, under Aussie regulations.

Australian Support

Our support team is 100% Aussie based.

Australian Integrations

We support local, integrating with all your Australian systems and software.

An MYOB Business

Tall Emu is owned by MYOB, so your business is in safe hands.
The Aussie CRM that
connects all areas of your business
Boost productivity

Automate admin and processes to make your team more efficient.

Real-time stock view

Sync and link everything from sales, to operations, to manufacturing, to shipping

Supercharge your pipeline

An easy sales process to reduce the time from new lead, to new customer
Tall Emu's impressive stats...
Est. '02
We've helped businesses for over 20 years
3x
Competitor CRMs cost up to 3 x more than Tall Emu
Millions
Of dollars revenue put through Tall Emu by our customers annually
CRM Case Studies
Hear from real customers using CRM software in Australia – specifically, Tall Emu – every day to run their business. Discover more about how this Australian-based CRM is able to enhance your operations.
As an Australian CRM, Tall Emu is uniquely equipped to handle the challenges that arise from running a business within the ANZ region. Through these case studies, you'll discover how having Australian CRM software can support your needs and help you grow your team.